Reading Time:
18
minutes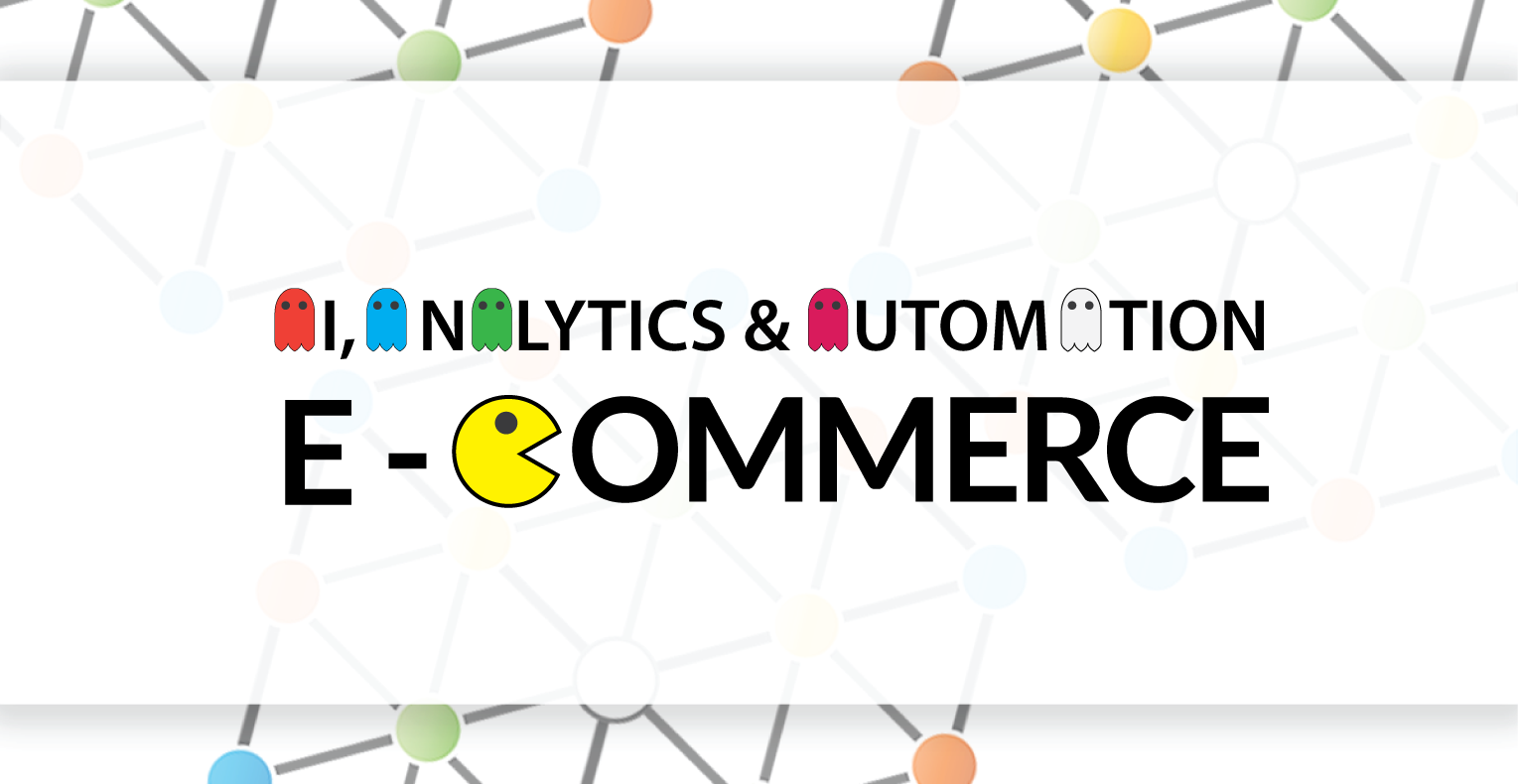 E-commerce has emerged to be one of the giant roleplaying industries in the business market with a global presence. As a consequence of huge past transformation, the competition amongst the e-commerce brands has intensified, not just in terms of the business generated, but more so in terms of customer acquisition and retention. With the number of brands, customers & other factors having multiplied exponentially, the e-commerce websites are in a cut-throat hustle to get ahead in the competition.
With the learnings taken from the past consumer behavior and interactions, most e-commerce companies have now realized that the only way they can get ahead in the race is by being more customer-centric. This implies that the e-commerce companies would have to serve every single customer with increased, customized personal attention, much like the attention they receive in the in-store retail outlets.
Whether it is to create such highly personalized experiences that combine the personal feel of an in-store experience with the ease and convenience of online shopping, or to reduce their ROI by optimising their operations, or even just making business decisions based on trends, e-commerce websites have now begun to adopt artificial intelligence and data analytics, as the sophisticated tools, to achieve the desired results.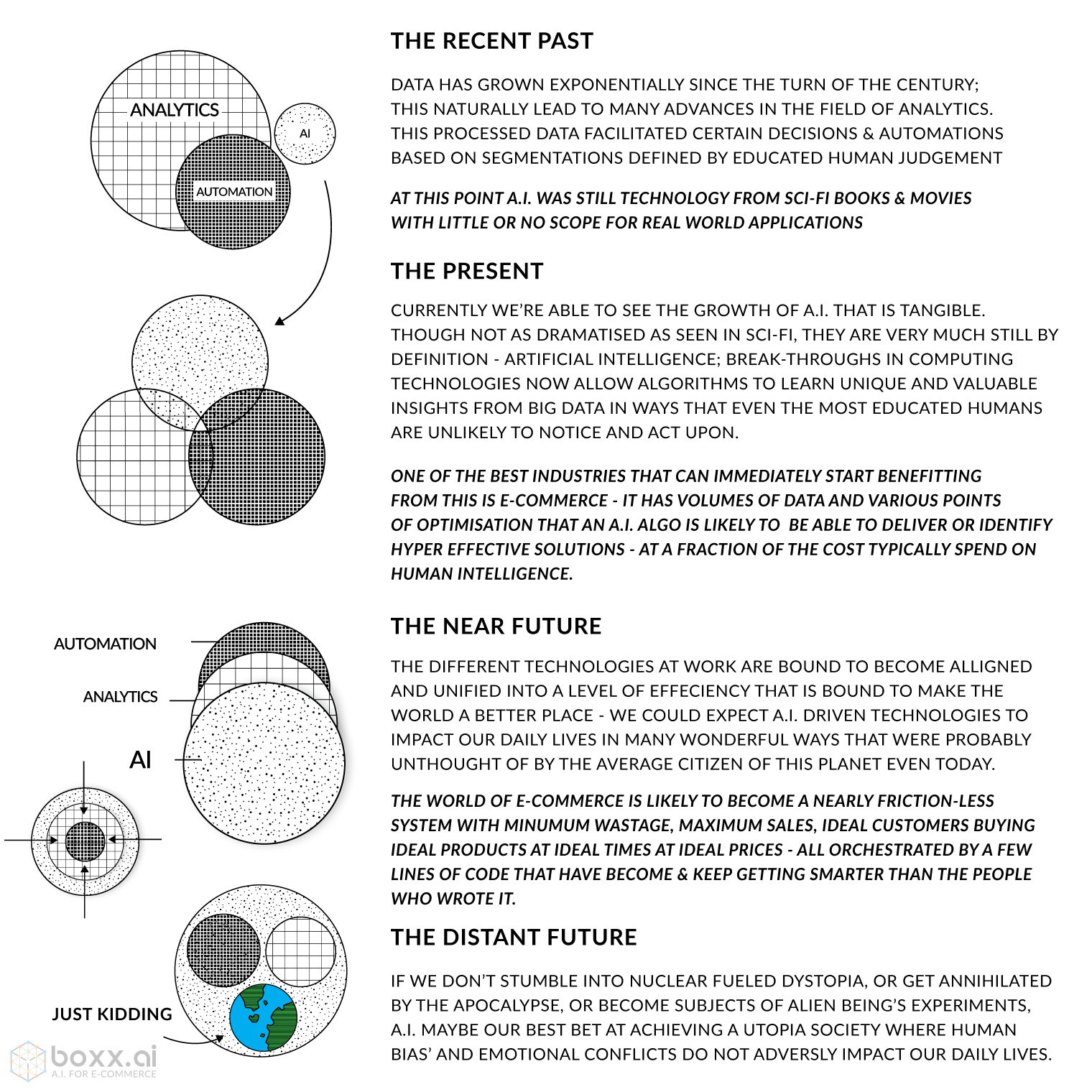 While certain websites have already adopted these technologies and gained a good response, most other websites are now switching to it after witnessing the upsurge garnered by their competitors. In a report published by Boston Consulting Group (BCG), the retailers that have implemented personalization strategies have achieved a sales gain of nearly 6-10%, a rate two to three times faster than other retailers. In another report about the future of A.I., Accenture predicts that A.I. could boost profitability rates by 38% in the wholesale and retail industries by 2035.
Few big names that have already reaped the fruits of AI-driven analytics to achieve the targeted results are Flipkart, Amazon, Myntra, eBay, Nearbuy, Zivame, Paytm, Caratlane, Shopper's Stop, and Ola.
Let us take a close look at the efforts made by these e-commerce players as enlisted:
Amazon
The globally popular e-commerce giant has embarked on an exhaustive journey towards its ultimate goal of customer satisfaction, by applying AI coupled with data-driven analytics and machine learning. The fundamental benefit of using the technology is that it takes all the guesswork out of the play, besides being more efficient that the human capabilities.
Real-time Product Recommendations
The e-commerce giant provides unique, personalized recommendations to each customer. This bestows a shopping experience in which the most relevant products are displayed as per the user's choice and taste in real time.
Amazon's latest earnings indicate that the product recommendations powered by AI and data analytics have been successful with a reported a third-quarter sales increase of 34 percent which summed up to $43.7 billion. The recommendation system is now integrated into every aspect of the purchasing process. (Source)
Style recommendations
Amazon is taking certain special efforts to use AI to improve its marketing reach in the fashion industry. In April 2017, Amazon launched Echo Look, a voice-controlled, hands-free camera that uses a combination of human advice and machine learning to act as one's personal stylist and is powered by Alexa. Alexa is amazon's AI voice assistant.
Catalog Quality
Flaws in product catalog such as missing attributes of the brand, color, or poor quality of images can have a negative impact on the user experience. Amazon is using AI-driven analytics and machine learning to extract missing attribute information such as brand or color details from the product titles and images to keep their catalog clean & updated. (Source) 
Battling fake reviews
Product reviews provide a great means to effective marketing. Customer reviews can influence the shopper's decision in both ways. Since product reviews are considered extremely important on e-commerce websites, fake feedbacks and reviews can be posted to boost the product's ratings and sale on the site. To check this malpractice of proliferation of fake reviews, Amazon released a machine-learning algorithm to selectively filter authentic online feedbacks and product reviews.
Other efforts
Amazon Web Services, the company's cloud-computing platform subsidiary, has developed these plans in the form of deep-learning tools such as Amazon Lex (a chatbot service for building conversation interfaces), Amazon Polly (a cloud service that turns text into speech) and Amazon Rekognition (a deep-learning image analysis technology). Amazon also has teamed up with Microsoft to develop Gluon, a user-friendly interface for developers working on training algorithms and neural network models.
Amazon also believes in its recommendation engine so much so that they intend on predictive deliveries to customers who are likely to buy certain items at certain times before they even order the product.
In his annual Letter to Shareholders (2016), CEO, Jeff Bezos, wrote, "At Amazon, we've been engaged in the practical application of machine learning for many years now. Some of this work is highly visible: our autonomous Prime Air delivery drones; the Amazon Go convenience store that uses machine vision to eliminate checkout lines; and Alexa, our cloud-based AI assistant. But much of what we do with machine learning happens beneath the surface. Machine learning drives our algorithms for demand forecasting, product search ranking, product and deals recommendations, merchandising placements, fraud detection, translations, and much more. Though less visible, much of the impact of machine learning will be of this type – quietly but meaningfully improving core operations."

He further references his 1997 letter where it is more than obvious that Amazon's vision for AI is nothing new, "Today, online commerce savescustomers money and precious time. Tomorrow, through personalization, online commerce will accelerate thevery process of discovery. Amazon.com uses the Internet to create real value for its customers and, by doing so,hopes to create an enduring franchise, even in established and large markets."
Further ahead, very recently the e-commerce player has invested nearly $2 billion into its business operations in India, reinstating its long-term commitment and interest in the Indian market and applications of AI.(source) 
eBay
Launched in the year 1995, eBay reigns at the second position ahead of Apple and Walmart, being preceded only by Amazon on the global market map for the year 2017.(source)
Two out of six of eBay's acquisitions in 2016 were companies that were built on AI-driven platforms namely Salespredict and Expertmaker. The company believes that the acquisitions' predictive analytics and machine learning capabilities will help the company strengthen its structured data. The company has also invested in the predictive model's research largely with the purpose of reducing the time spent by its users in finding the products of their preference. 
Image Search and Find It
eBay has shown its interest and commitment towards machine learning and data science through eBay Research and sponsorship of research events and conferences by investing ample funds. Earlier this year, the company launched two apps – Image Search and Find It On eBay. Image Search is an app that matches a user's photo of any item to visually comparable listings of over a billion products featured on the website. Alternatively, a user can use any photo on their social media account or from a web browser to search for similar products using Find It On eBay. Both the apps were developed using computer vision and deep-learning technology for improved product matching and to obtain quick results. (source)
Shopbots and Shop the Room
In a further attempt to personalize the shopping experience for its customers, eBay introduced the eBay ShopBot for its users. The innovative app is powered by AI-driven data analytics and can be accessed through the Facebook messenger platform as well. eBay ShopBot lets users interact with a chatbot using a text message, or through the speech, or an image. At a more granular level, an additional smart features in the app, Shop the Room, allows the users to hover over products shown on each room image which is then followed by eBay displaying a similar product on a pop-up window. According to eBay, the goal of the app is to serve the user in the same way a personal shopper does, by giving tailored search results. 
Devin Wenig, President and CEO, eBay, elaborated his views about what he expects from the AI-led analytics and the two AI acquisitions made, "What AI is going to do is accelerate the pivot from simple clustering around inventory, to combining intelligence about individuals, behaviors, trends, and context…We recently acquired Expertmaker – a company that has created an advanced AI platform enabling optimization and automation. We currently expect to apply their technology across our platform, to help improve shipping and delivery times, trust, pricing, and more." (source)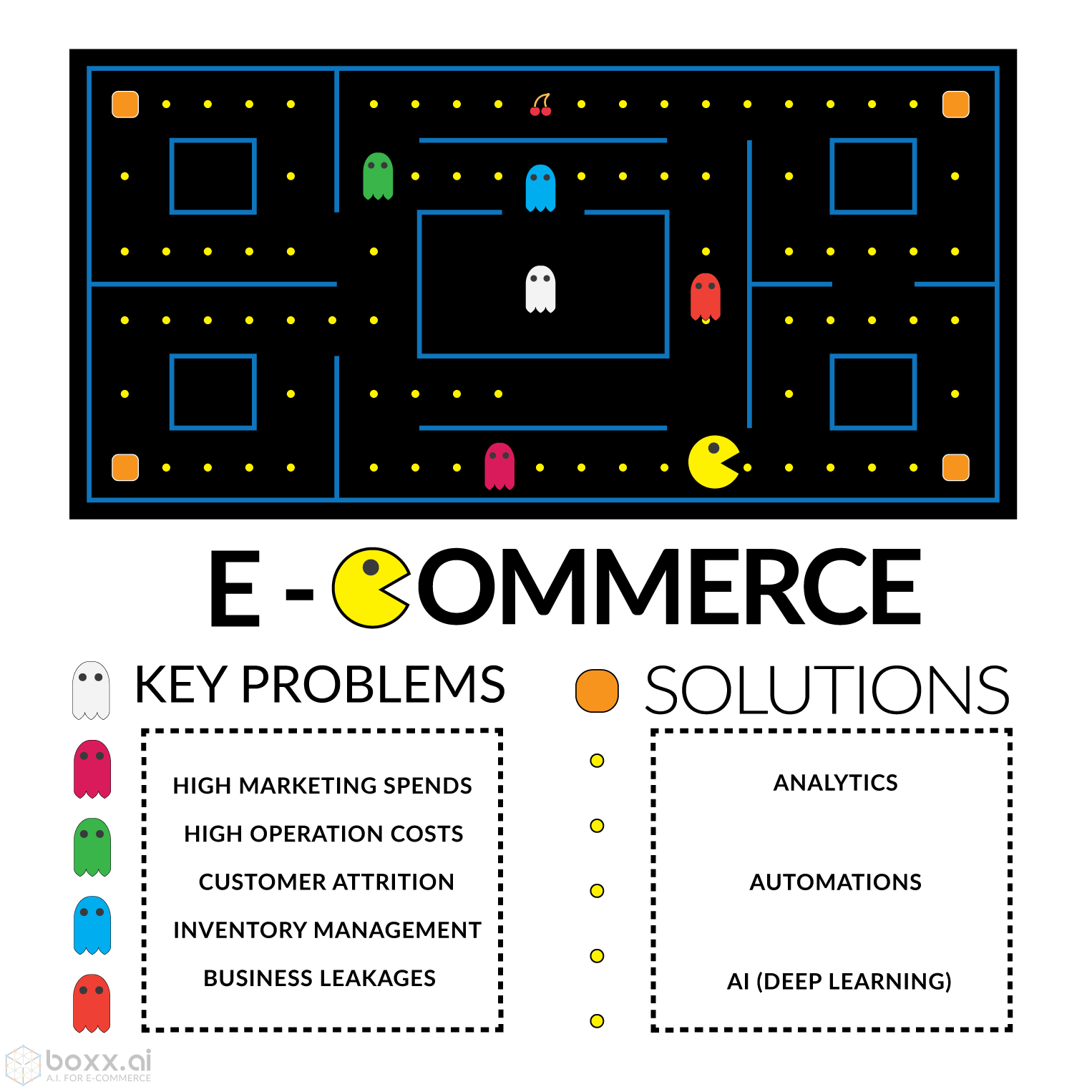 Ola
Ola is the third-most valuable start-up in our country and the most popular mobile app for personal transportation.
The Bengaluru-based start-up has raised nearly $4 billion since the year 2010. China's Tencent Holdings Ltd. and SoftBank Group Corp. of Japan are its existing big-sized investors. 
Ola serves more than a hundred cities through its bike, auto-rickshaw, and car services with the intention to expand to much higher numbers. The company has already & plans to invest large sums into tech-driven developments such as artificial intelligence, machine learning, and supply chain management. Concomitantly, Ola is building a new connected vehicle platform for car manufacturers worldwide together with Microsoft.
Ola Play
Further it also announced that Microsoft will be a preferred cloud provider and it will use Microsoft Azure to power Ola Play. Ola Play is the company's existing connected car platform. Integration of Ola Play with Microsoft Azure will transform driver and passenger experiences with vehicle diagnostics, improved in-car productivity, advanced navigation, predictive maintenance of vehicles and more.
Ola Play is the world's first connected car platform for ridesharing. Ola Play can leverage Microsoft AI and IoT such that it enhances the driver experiences with telematics and navigation guidance; passenger experiences with cloud-based infotainment; and provide auto manufacturers with custom digital experiences for their customers. The advanced telematics platform would convert the car into a highly-efficient, intelligent vehicle that will assess fuel efficiency, engine performance, and driver performance with a lot of ease in no time. It will also enable smarter navigation and predict breakdowns which will enhance the safety and security of the passengers and uplift the brand's face value.
Bhavish Aggarwal, Co-Founder and CEO of Ola said, "Globally, the auto industry is experiencing a seismic shift as the definition of automobiles is increasingly changing from gas-powered vehicles to technology-packed, connected devices. With Ola Play, we have already set the tone for connected vehicles in India; together with Microsoft, we can make the new platform available to a larger, global audience and unlock futuristic experiences for customers worldwide." (source)
Fraud
Ola has been using AI & Analytics to battle the various attempts of fraud. The ola driver community has gained a reputation for finding loop holes & hacks to meet their incentives or to simply just cheat the system – with the help of tech as well as support from authorities, Ola has been making great advancements in identifying & preventing such incidents.
Myntra
Myntra is one of the most popular e-commerce fashion brands in India. In the year 2014, Flipkart, the leading e-commerce website in India, acquired Myntra with the prerogative of strengthening its presence in the fashion category. Myntra escalated this a step ahead by acquiring its smaller rival – Jabong.
Online fashion retailer Myntra is using futuristic technologies like data analytics and artificial intelligence (AI) to help its designers leap ahead in the fashion scenario. The AI-fuelled tools help designers come up with fresh, trendsetting, patterns and styles that can attract buyers and boost sales for apparel makers.
Artie-
Artie, an indigenously developed smart bot introduced by Myntra, has already been tested successfully with their two in-house brands, ModaRapido and Here and Now. Artie gathers consumer insights to create a fresh range of trendy, contemporary apparel styles which have garnered an amazing response from the customers.
Speaking of 'Artie', Myntra Chief Products Officer, Ambarish Kenghe, quoted, "The software uses data like designs and styles that are popular, cuts that customers prefer… it, then, comes up with designs on its own using AI that have been used by the two in-house brands."

He further added, while speaking to PTI, "Technology has been at the core of Myntra. We have huge amount of data available in terms of what people are looking for, what they are actually buying and what they aren't."
Besides coming up with the 'machine-generated' designs, Myntra is making use of augmented reality (AR) to enhance its relationship with consumers. Myntra is also working on adding a feature on its app that would rate the user's attire and help them don fashionable clothes.
(source) 
Zivame
Zivame is one of the India's largest lingerie marketplace with its presence in both online and offline space. Ever since its inception in 2011, the company has been able to raise a capital funding of $46 million to serve an approximate 1.5 million online users. The intimates brand gradually divulged into the offline market in recent past.
As its first step into the world analytics and automation, Zivame used WebEngage's 'Journey Designer' to target the anonymous users who drop-off from the product page.
This was done by using the two channels:
Onsite Notifications:
Onsite notifications are the messages that are displayed to the visitors when they visit and browse through an e-commerce website. By understanding the personalized needs and preferences of each customer, personalized onsite notifications are be triggered and displayed every time a user visits the website.
Web Push Notifications:
These are highly personalized notifications that use the data and attributes from each user's viewed product event, profile, preferences, and past interactions. When a user doesn't convert post viewing the onsite notification, then a series of web push notifications are triggered. Each web push notification has a highly personalized copy, attuned to the customer's taste and preference. These notifications are triggered with the core intent to prompt the user to make a purchase.
Personalized Facebook Ads
Zivame has now tied-up with a Bangalore-based AI company, Boxx.ai, to further propel its efforts in the space of customer-oriented, personalized communication, powered by AI and machine learning technologies. Zivame, with the help of Boxx.ai, is currently experimenting with personalizing their ads on social media channel of Facebook.
It is further set to experiment with AI-driven product recommendations on a number of other channels to find and communicate the most relevant product to each customer. The other channels being set by the Boxx.ai are product listing page reordering (real time), product display page – recommendation widgets, email notifications, app notifications, browser (push) notifications, and social media ads.
Caratlane :
Among the e-commerce jewelry retailers, Caratlane happens to be one of the India's largest online retailers. The e-commerce website features a fashionable range of jewelry such as diamonds and gemstone jewellery, solitaires, and gold coins to name a few. The ambitious, online jewelry shopping website gained the attention of media and the business market when Titan, the Indian luxury goods giant acquired a majority stake in the jewellery startup in 2016. Caratlane is also in partnership with Tanishq one of India's largest jewlery retailers. (source)
Like many other e-commerce players, CaratLane has also taken some major steps to offer that very essential, personalized shopping experience to their online customers by gauging the prowess of futuristic technologies including data analytics and AI.
Omni-Channel Personalization
Caratlane has tied-up with the Bangalore-based analytics & AI Company, Boxx.ai, to strengthen the back-bone of its efforts in the AI and Machine Learning space. The e-commerce retailer aims to personalize its communication with its online customers by using the AI-driven product on various channels.
Boxx.ai, an AI-driven personalization product, will enable Caratlane to automate and trigger a number of tasks such as product listing page reordering, recommendation widgets on product display page, email notifications, app notifications, browser (push) notifications, and social media ads. To begin with, the e-commerce giant is experimenting the app notifications by using Boxx.ai, at present.
Other Technologies
CaratLane introduced the world's first virtual 3D jewelry try-on app to address the customers' concerns for a tactile, 'look and feel' experience before buying any product online. The app uses facial recognition and 3D imaging technologies to provide a virtual, yet a vividly realistic, try-on experience.
Combining omni-channel personalized recommendations with tech that allows the users to get a good idea of how the products are likely to look and feel on them, Caratlane is likely to have a positive impact on how online jewlery shopping is perceived & consequently boost their customery satisfaction & sales.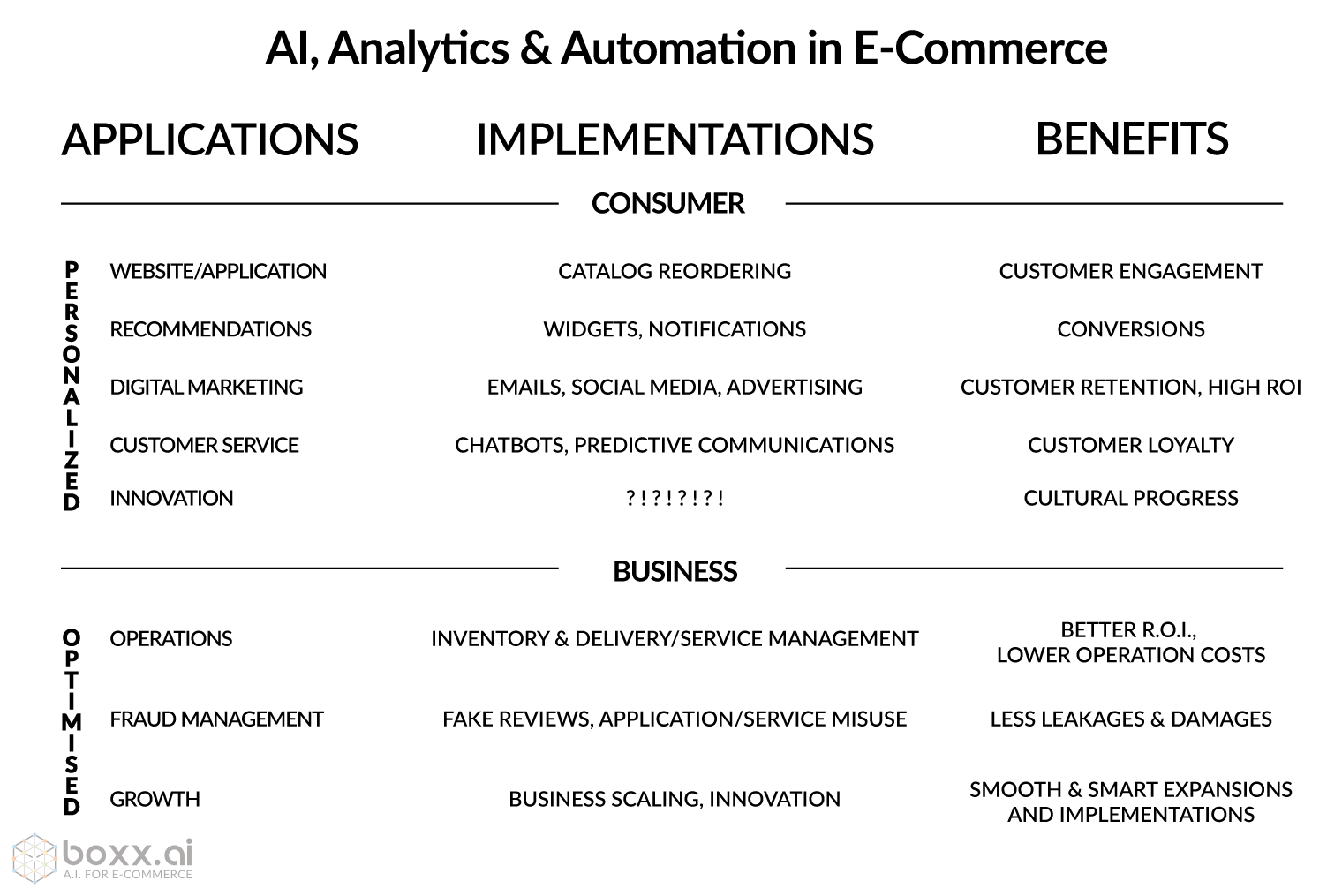 Paytm
Paytm, the predominantly popular e-wallet company that rose to the status of a vital requirement in India, post-demonetization, now delivers a diverse range of services including a well-known e-commerce portal, Paytm Mall.
Though Paytm's foray into the e-commerce has been relatively recent as against its much popular e-wallet, the company has initiated and expanded its efforts to reap the benefits of AI-fuelled analytics and machine learning.
App Personalization
Much alike the other e-commerce giants, Paytm has also understood and introduced the concept and application of personalization to its range of services. The AI-driven personalization engines that are used in the e-commerce websites are largely useful in reordering the product listing page, featuring the recommendation widgets on the product display page, sending automated app, browser, and email notifications to every customer with a unique, personalized copy to recommend the products best-suited to their tastes and preferences.
Charumitra Pujari, chief technology officer, Paytm, revealed that "every pixel"—each icon, product row, column — on Paytm's homepage is personalized and reordered differently for each of its 225 million users. She further explained that with AI as a foundation, the platform makes 20,000 recommendations per second—each of them in under 20 milliseconds. Furthermore, the platform also crafts promotions for the consistent buyers by putting machine learning to use. However, these promotions are created only when Paytm detects an intent to buy.

Pujari quoted, "If you wanted to buy a ceiling fan, which is not promoted on (the) home page, once you started looking, in real time, we can pick up your request and kind of put together a promotion for you." She further added, "If you're just browsing, looking at ten different products, I won't create the promotion."
Fraud Detection
Since Paytm has majorly been into the 'transactions' domain, its first and foremost priority in applying the analytics and machine learning was to detect and prevent frauds. The fraud-detection engines constantly vet the fraudulent accounts that are solely signed up to take advantage of promo codes, or add money from stolen credit cards. Machine learning's prowess inspects and inhibits the fraudulent sellers too.
Additionally, Paytm is now beginning to offer lending services and credit cards to customers. But, to gauge how much a user can borrow, the company has employed machine learning again, "capturing signals from the mobile app to find out who you are and what credit you should be eligible for," Pujari said. 
(source)
Funded by big names like Alibaba, its affiliate Ant Financial, and Japanese investing giant Softbank, Paytm Mall claims to have garnered a market share of 15-20% during the sales. The company claims to have achieved an annualised GMV run-rate of approximately $4 billion, a target that was set for March 2018. (source)
Shopper's Stop
Shopper's Stop is one of the well-known fashion retailer brands in India. It has predominantly been a popular in-store retail brand for a long time. But, with its emergence into the online space, the website has now decided to take its relationship with its customers a step further.
The online retailer has now ventured into the world of AI and analytics to deep-discover the art of personalization and customer-centric communication.
Speaking of Shopper's Stop plans into implementing analytics and AI, Anil Shankar, VP, Solutions & Technology, Shopper' Stop, shares, "We are currently focusing on a few key areas like transformation of the supply chain, creating best cross-channel fulfilment capability, and drive better customer engagement through personalization for both in-store and online. These are to support the business to be become omni-channel." (source)
Omni-Channel Communication
Omnichannel is all about navigating the multiple channels of shopping to ensure that the communication across all the channels is effectively addressing and assisting the customers, to obtain what they want, in no time. While it keeps the integral personal touch to the communication sent across all channels, it also ensures that the brand experience is seamless.
"Through the omnichannel integration, customers will eventually be able to click and collect, click and reserve and also click and get a product delivery. We intend to offer a seamless transition from brick and mortar to click and order," says Govind Shrikhande, MD, Shopper's Stop, as he sheds more light on the future plans of the retailer into the technology space.
Business Intelligence via Personalization
Shopper's Stop hasn't stopped there. It has further made deep investments in multiple technologies such as – Warehouse Management System (WMS), Order Management System, Customer Relationship Management (CRM), Enterprise Service Bus, and Master Data Management, to enable single view of the customer, one view of the order and inventory. In order to solve the issue of identifying and integrating multiple data points and flows into a single process, an Enterprise Service Bus was adopted that rapidly processed the data across various channels.
Speaking of the entire tech-driven process, Shrikhande explains, "This will allow us to provide our customers with a contextual, targeted, personalized and integrated shopping experience."
Customer Service
In a major step towards the more innovative developments in AI at Shopper's Stop, the e-commerce player has attempted the inception of Magic Mirror.
The augmented reality-based dressing room – Magic Mirror – is an AI-powered intelligent photo-booth that allows the customers to select, view, and try-on the apparels and accessories virtually. This not only offers a hassle-free magical shopping experience to the customers, but assists them in matching and styling themselves, without having to match and try the products in real.
With the recent steps that the company has taken in the field of data analytics, AI, and Machine Learning, the company aims to achieve a minimum 15% revenue through digital touch points and 10% sales through the online channels by 2020, as revealed by Govind Shrikhande, MD, Shopper's Stop. (source)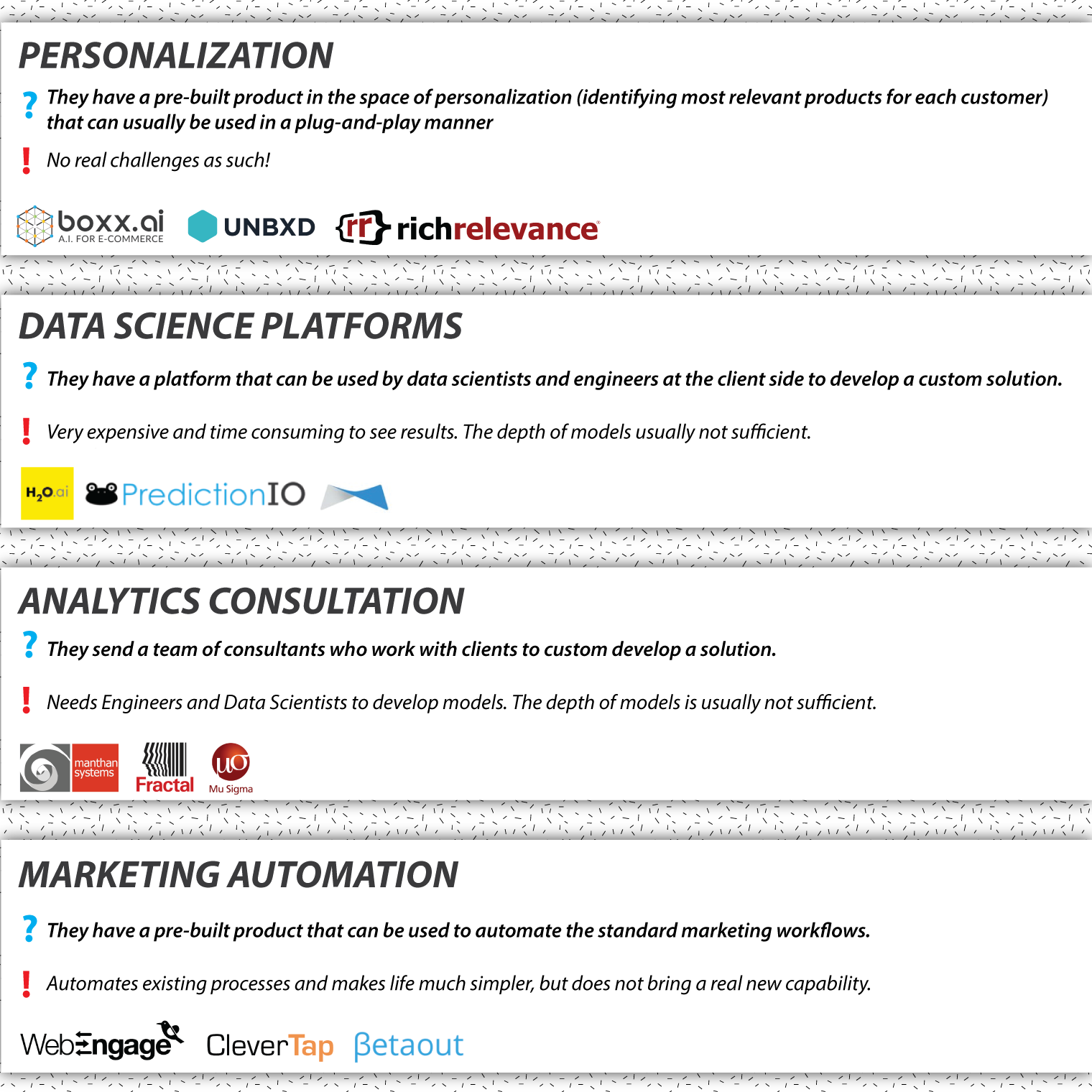 Nearbuy
Nearbuy, earlier named as Groupon India, is one of the few prominent names in the hyper-local e-commerce marketplace that has successfully served more than 4 million customers across 33 cities to connect. It has helped its customers to connect, discover, buy, and save on nearly 50,000 products, offered by the local merchants in the respective cities.
Nearbuy has always explicitly spoken and understood the significance of AI-driven analytics, data science, and machine learning in shaping up the future of e-commerce. The e-commerce player has always been interested in finding out more of data-driven, intelligent ways to serve its customers. Simultaneously, with the amount of data having multiplied to numbers beyond human's computational capabilities, it only made sense to plug-in the AI-led algorithms and machine learning into the process. For quite some time, Nearbuy has been AI-backed analytics and machine learning technology to optimize and personalize its communication with its customers across various channels.
Nearbuy kick-started its journey on the road of analytics and AI with Boxx.ai, a Bangalore-based AI startup, which helps e-commerce companies personalize their communication with their online customers, by applying the AI-driven analytics and machine learning. This communication is carried out across multiple channels with a consistent brand tone. Every single copy of the communication sent out consists of the most personalized, unique recommendations for every single user. With the power of AI-led compute engines, the entire process is automated to be able to reach out to millions of customers, in bulk at a time, without any human-involvement.
Personalized Emails & App Notifications
Boxx.ai, in close association with Nearbuy, initiated the process of reaching out to each Nearbuy-customer through emails that contained the product recommendations relevant to their unique taste or preference. Each time a customer would click on a product, he would be re-directed to the corresponding offer page on the website. Further ahead, Boxx.ai also generated the context-based, automated, app notifications containing the offers on relevant products that were sent to the online customers. Whenever a customer clicked on the app notification, the customer would be led to a landing page containing a personalized catalogue of products.
By using Boxx.ai, Nearbuy achieved impressive results that could be quantified by the virtue of AI that was linked all through the process. Nearbuy observed an overall increase in the click-to-open-ratio (CTOR) by 35.7%, in response to the email notifications that were communicated to the customers. As a response to the app notifications, an overall increase of 51.6% was achieved in the revenue generated.
Boxx.ai is a plug-and-play, omni-channel, personalization engine, whose algorithms find the hidden patterns in the e-commerce company's data to identify the most personalized and relevant products for each customer, based on the probability to click or buy. Boxx.ai personalizes the communication across various channels which include the product listing page reordering, recommendation widgets on the product display page, onsite and personalized browser notifications on the website and app, social media ads, and emails notifications.
(source)
As an acknowledgement to Boxx.ai's efforts and the impressive results gained at the end of the process, Ankur Warikoo, Founder & CEO, Nearbuy, quoted, "We have been fortunate to be one of the first beneficiaries of the Boxx.ai output. The team started working with us when we really needed a solution and they delivered meaningful results. It's been a pleasure interacting with them; their inputs have truly helped the business in a quantified fashion."
Browser Notifications
Nearbuy has alternatively also enabled the browser (push) notifications to be sent to its customers to personalize the communication furthermore. Nearbuy has tied-up with three AI-based companies – Pushengage, Pushowl, and Izoolo – to reach out to its customers with the automated and personalized browser notifications.
Flipkart
While Amazon is the most-discussed, quintessential example of e-commerce companies that are paving the way to AI-driven data & analytics, Flipkart, and its independently-run subsidiary – Myntra, dominate the e-commerce market shares in India. According to the numbers suggested by Economic Times, Flipkart and Myntra together own a market share of nearly 38%, while Amazon India constitutes a market share of 29%. (source)
Flipkart, which received an undisclosed round of funding from SoftBank in August, is investing heavily in the technologies such as data analytics, artificial intelligence (AI), and machine learning, in its pursuit to understand and predict consumer behavior.
Earlier this year, Flipkart partnered with the global tech giant Microsoft and adopted Microsoft Azure as its exclusive public cloud platform, with the aim of providing an improved online shopping experience to its Indian customers.
Product List Re-Ordering
It is a well-established belief at Flipkart, that AI can change the structure and functioning capabilities of e-commerce businesses inside out. Therefore, Flipkart is the only e-commerce giant that actively performs AI-backed product listing page reordering which has not been initiated by any other e-commerce player till now. (source) 
Multiple uses of AI & Machine Learning
Speaking of the mega-e-tailer's vision and mission on its journey to further new avenues and milestones  in the e-commerce industry with AI-driven intelligent approach, Co-founder and Chairman, Sachin Bansal, revealed, "The kind of problems we're solving using AI and Machine Learning are very varied. We have a lot of work going on in image recognition, speech recognition, text recognition, and personalization, search and recommendations. We're also applying AI in areas which are not visible to customers like customer service, warehousing and logistics.

Then, we are doing some interesting work around product discovery, intent modeling and ensuring our products are bought by genuine buyers and not resellers. Towards that end, we are working on an ML model for classification of a transaction as fraudulent or not. Leveraging AI in the delivery side, such as optimizing last-mile connect, is another focus area for us." (source)
The company is all set to expedite and deepen the scope of its work with artificial intelligence technologies, across operations ranging from visual similarity, conversational search, better last-mile delivery, fraud detection, personalization to warehousing.
Mira
As a further plunge into the futuristic innovations in AI, Flipkart has unveiled Mira, an AI-based conversational search experience, which allows the firm to talk to its users as they look for the required products. Mira, guides and assists the consumers in shopping by suggesting the shopping ideas, offers, and recommendations relevant to them. (source)
In the latest update on Flipkart's venture into AI, the e-commerce leader has forged an 'AI for India' team that'll reportedly be headed by the chief data scientist, Mayur Datar, along with the Co-founder and Chairman, Sachin Bansal, and the CEO at Flipkart, Kalyan Krishnamurthy.
Vikram Sharma, the Director of Product at Flipkart, elucidates, "We have machine learning based techniques to (predict) the content the customer is most likely going to click on." Based on the past history of consumer behavior, which the firm continues to collect throughout its decade-long presence in India, the AI-led techniques help the firm to identify various other detailed elements such as age, gender, geographical location, preferences, and trends to name a few. By further understanding the intricate details of each customer, the AI and ML powered algorithms trigger the right set of personalized product recommendations, which are then communicated to each unique customer effectively across different channels." (source)
CONCLUSION
The future of e-commerce seems very much married to analytics & the growth of AI based tech to optimise this relationship – the number of products, transactions are only expected to grow and the time spent on shopping & delivery are surely expected to go down, and for such a reality to come to fruition the implementation and investment into smart technologies is critical. Whether you run an e-commerce business, big or small, or you're a consumer, mainstream or niche, exciting times lay ahead of us, where you may potentially be presented with the products/services you need and want automatically based on your day to day activities. Soon, we may wake up with a common cold after a long walk in the cold the previous night & find that the appropriate medication & groceries are delivered to our door step; or we might find the perfect gift for a friend's birthday show up in our cart just in time before the party; the possibilities are quite endless – from spending your money better to spending your time better, these technologies are likely to make the world of e-commerce a magical industry!